Engineering Services Group

WirelessPro" 6.0
Software Downloads
Request Information
Tech Support
WirelessProTM is a fast and efficient solution for collecting and post processing wireless network performance data. This powerful tool is designed for use in system design verification, system optimization, and competitive profiling. Using commercially available handsets and scanners, WirelessProTM is compatible with various wireless technology platforms inclusive of AMPS, IS-136, GSM, CDMA, and iDEN.

FEATURES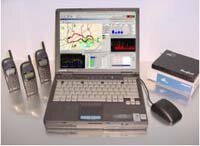 Multi-Phone / Multi-Scanner
WirelessProTM 's highly flexible configuration can meet even the most demanding drive test requirements. WirelessProTM supports concurrent data collection on up to 8 handsets plus 6 scanners in any combination of available technologies. And since WirelessProTM is software based the user always has the flexibility in choosing the technology mixture.



Real Time Map Display
The real time map display brings the whole network into perspective by displaying the collected data and call events on the map in real time using a standard MapInfo(R) workspace for the backdrop.
Cell Site Database
The integrated Cell Site Database aids the engineer in identifying potential handoff issues between sectors and individual sites by highlighting the current server and associated neighbors on the map display. Handover lines are also drawn to indicate the serving site at the location from which the handoff / reselection occurred.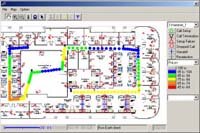 In Building Module
WirelessProTM provides the ability to perform in building data collection using a scanned image file of a building floor plan or even a floor plan sketch. The user specifies the walk plan on the map display and the collected data is indicated on the map identifying areas of poor in building service.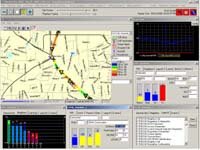 Synchronized Playback/Data Analysis
For diagnostic purposes, WirelessPro TM includes post analysis of collected log files. The data analysis feature makes troubleshooting easy - click a point on the map and all other windows are synchronized to that point in time. The user can step forward and backward in time to pinpoint the exact cause of a problem. This eliminates the need for an expensive post-processing tool and allows for immediate classification of poor performance areas and their underlying root causes.