TMNG and inCode Announce the Formation of the First Independent Wireless Laboratory
Lab to Provide End-to-End, Vendor-Neutral Facility for Testing Latest Wireless Infrastructure, Applications, Operations Support Systems, Product and Service Developments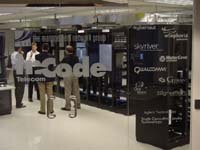 Overland Park, KS and San Diego, CA October 31, 2001 -- The Management Network Group, Inc. (Nasdaq: TMNG), a leading provider of management consulting services to the global telecommunications industry, in partnership with inCode Telecom Group, Inc., a leading wireless technology consulting services firm, today announced the formation of the first independent next-generation wireless development and testing laboratory. The jointly-developed facility will provide a neutral, real-world testing ground for the industrys next generation of wireless services, technologies, support systems and applications.
Located at inCodes corporate headquarters in La Jolla, California, the lab is already beta testing a number of new technologies and applications for companies in the wireless industry. It is scheduled to become fully operational in the Spring of 2002.
The wireless lab will provide a technology, protocol and vendor neutral environment in which network technology vendors and wireless service providers can come together to test and evaluate new services and applications. This testing will help wireless carriers and technology providers solve complex network integration, support and interoperability issues before committing significant capital to new ventures. For example, the lab will give inCode and TMNG the ability to create a collaborative environment for the research and testing of emerging applications such as 3G/IP-based services, E911, location based services, telematics, 802.11 wireless LAN, prepaid solutions and BSS/OSS applications. Engineers and marketers will be able to make equal use of the lab, testing everything from open architecture wireless network hardware, to OSS/BSS software to potential market reaction to new services and applications prior to full development or launch.
Wireless providers today are faced with innumerable technology, interoperability support and marketing challenges in launching next-generation applications, said Rich Nespola, President and CEO of The Management Network Group. Worse yet, providers are often forced to test new services on their existing networks, putting their systems and customers, not to mention significant capital, at risk in a live environment. The independent testing environment provided by the wireless lab will serve as a low cost insurance policy for technology and wireless service providers. It will also benefit the venture and investment banking communities, by providing them the opportunity to step beyond the business plan to evaluate the feasibility of projects before committing funding. We are very excited about working with a firm as reputable as inCode to bring this unique offering to fruition.
I am very exited to have TMNG as a strategic partner in our wireless lab. This relationship leverages our core competencies in wireless technology and back office systems to deliver powerful solutions that will accelerate the acceptance of next generation wireless services and applications for wireless operators worldwide, said John Donovan, President and CEO of inCode Telecom Group. Focused on emerging wireless IP and data networks as well as 3G technologies the wireless lab will become a premier wireless think tank and interoperability showcase for best of breed technologies.
The lab will be managed by inCode, and will be overseen by an advisory council in which both inCode and TMNG will have a seat. Additional advisory council members will be comprised of leading executives in the wireless industry.
About inCode Telecom Group
inCode Telecom Group, Inc. is a leading wireless technology consulting firm delivering solutions to global wireless carriers and wireless equipment manufacturers. inCodes advanced wireless solutions portfolio includes: wireless strategy, technology assessment, RF planning/engineering, deployment, optimization, vendor selection, telematics, E911, MVNO, G-path migration (3G networks), IP and data engineering. Founded in 1998 and based in La Jolla, CA, inCode has worked for several of the largest US based wireless carriers and infrastructure vendors. The firm also has regional offices in Reston, San Francisco and Dallas. inCode can be reached at 1- or online at incodewireless.com
About TMNG
The Management Network Group, Inc. (TMNG) is a leading provider of strategy, management, marketing, operational and technology consulting services to the global telecommunications industry. With over 500 consultants worldwide, TMNG serves communications service providers, technology companies and financial services firms. Since the companys inception in 1990, TMNG and its subsidiaries, TMNG Marketing, TMNG Technologies and TMNG Europe, have performed services for over 475 clients worldwide. The company is headquartered in Overland Park, KS, and has offices located in Chicago, Boston, Buenos Aires, Columbus, Houston, London, Madrid, New York, Sacramento, San Francisco, Toronto, Utrecht, and Washington, D.C. TMNG can be reached at 1.888.480.TMNG (8664) or online at http://www.tmng.com.
Statements contained in this release may contain forward-looking statements within the meaning of the Private Securities Litigation Reform Act of 1995. Forward-looking statements involve risks and uncertainties. In particular, any statements contained herein regarding expectations with respect to future revenues and profitability are subject to known and unknown risks, uncertainties, and contingencies, many of which are beyond the Companys control, which may cause actual results, performance, or achievements to differ materially from those projected or implied in such forward-looking statements. Factors that might affect actual results, performance, or achievements include, among other things, overall economic and business conditions, the demand for the Companys goods and services, and technological advances and competitive factors in the markets in which the Company competes. These risks and uncertainties are described in detail from time to time in TMNGs filings with the Securities and Exchange Commission.

The Management Network Group, Inc. All Rights Reserved.